Cash Clams Slot Review – RTP, Features & Bonuses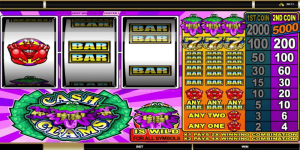 Cash Clams is one of Microgaming's many classic slots that feature three reels and a straightforward theme of cash-filled clams.
How to Play Cash Clams Slot
Before you get your chance to pry open a 'Cash Clam', you will need to know what game functions can be adjusted before each spin which we have highlighted below.
Firstly, Cash Clams players should look to adjust their bet size by using the "Coin Value +/-" buttons to set how many coins they wish to bet per spin. Coin Value buttons to set can also be seen on Carnaval Slot by Microgaming. If you are short on time, hit the "Max Bet" button to the maximum amount without manually adjusting your bet.
Once you have set your desired bet amount, you can click the "Spin" button to initiate the spinning of the reels. If you are tight for time and do not want to fuss around hitting the spin button every time you are ready to set the reels into motion, then you can also use the "Auto" button to automatically spin the reels a set amount of times that you wish them to be turned.
Slot Features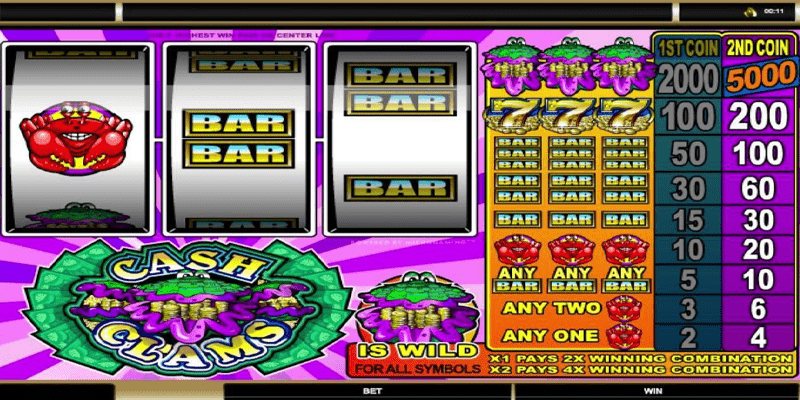 Being a classic slot, Cash Clam features three reels and one row in which players can win from just one payline. Cash Clams offers an okay betting range to its players, which ranges from 25p per spin to $10 per spin and although there is no progressive jackpot on offer, players can secure up to $25,000.
Slot features like 25p per spin, progressive jackpot, and a wide betting range are also seen on the Cash Volt slot by Red Tiger Gaming, which is very similar to Cash Clams. You can even secure up to $25,000 with each.
Since this Microgaming slot is a classic edition, you can count on finding all the usual traditional slot symbols, including bars, double bars, triple bars and sevens.
Cash Clams RTP Figure
As a gamer, you will always want to know your chances of winning, so you know you are not wasting your time on a video slot that rarely pays out. If you are looking for a video slot that pays out more often, you will need to look for one that offers a high RTP (Return To Player) % or falls into the category of low volatility,
Adventure Palace Slot also has RTP and High/Low volatility elements echoing many Microgaming productions.
The Cash Clams video slot offers an RTP figure of 94.99%.
Overall, Cash themed slots often have a low RTP figure; it's unknown why. LooHowever, taking at Cashville slot, they have a similar RTP figure to Cash Clams.
Cash Clams In-game Bonuses
Scatters & Free Spins
No scatters or free spins are available while playing Cash Clams.
Wilds
The wild clam symbol is the symbol you want to keep your eyes peeled for, as it can substitute for any other symbol found on the reels to create winning combinations. The wild will also award a prize if it is landed on the reel son it's own.
Whenever a wild appears on an active payline, it will award players 2x winnings.
Summary
Cash Clams offers everything you can ask of a classic slot… a great theme, traditional symbols and rewarding gameplay. Since classic slots lack different bonus games and features like free spins, the available wild must be rewarding, which it is. The Clam wild can award prizes for its sole existence on the reels and a 2x multiplier when landed on an active payline. Head to any Microgaming casino today to try out Cash Clams.

ccc