Golden Cryptex Slot Review – RTP, Features & Bonuses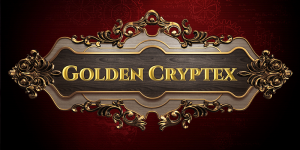 Golden Cryptex is a Red Tiger Gaming slot game that was first released in February 2020.
How to play Golden Cryptex
Before you can begin playing, you must understand the functions that can be adjusted within Golden Cryptex to personalise the game to be played the way that you feel most comfortable with and enjoy. These will enable you to get the most out of the slot and play it your way. First, you will need to select the size of the stake you are playing with, which can be done by selecting the staking icon in the screen's bottom left corner.
Like all slots produced by Red Tiger, Ancient Script Slot, for example, have many similar functions and rewards.
A wide variety of stakes will appear on your screen, with players advised to select a stake that they both feel comfortable with and that falls within your account balance at that time. The autoplay feature is also available to Golden Cryptex players, Fortune Fest Slot, another Red Tiger production, have similar setups. This is available via the auto-icon next to the staking icon in the screen's bottom left corner. Here, you can complete either 10, 20, 30, 50 or 100 spins at the click of a button.
Slot Features
There is a five-reel, three-row layout on Golden Cryptex. It also comes with a classic style theme that many experienced slot players will have become familiar with over time.
There is a minimum stake of 10p per spin for players that play Golden Cryptex, while the maximum stake per spin is capped at $60. This margin will ensure that no matter what your preference is when playing slot games, you will be able to find a stake amount that you feel comfortable playing with.
The maximum win available to players is 1500x your stake, meaning the most significant possible win from a single spin on Golden Cryptex is $90,000. You will undoubtedly find bigger maximum wins elsewhere and if it's the monster wins you're searching for, then you may be better off looking elsewhere. Still, $90,000 certainly shouldn't be sniffed at, and there is plenty of potential for significant wins in Golden Cryptex.
RTP
Return to the player, often shortened to RTP, is the percentage winning return from the selected slot. Imperial Palace Slot, another Red Tiger magical production, have similar RTP'S, the higher the RTP, the more likely the slot will return money to the player, reducing the chance to lose, while the lower the RTP, the more chance you have to lose. However, this often comes with much larger maximum wins and bonuses than the higher RTP slots available.
The Golden Cryptex slot comes with an RTP rating of 94.66%.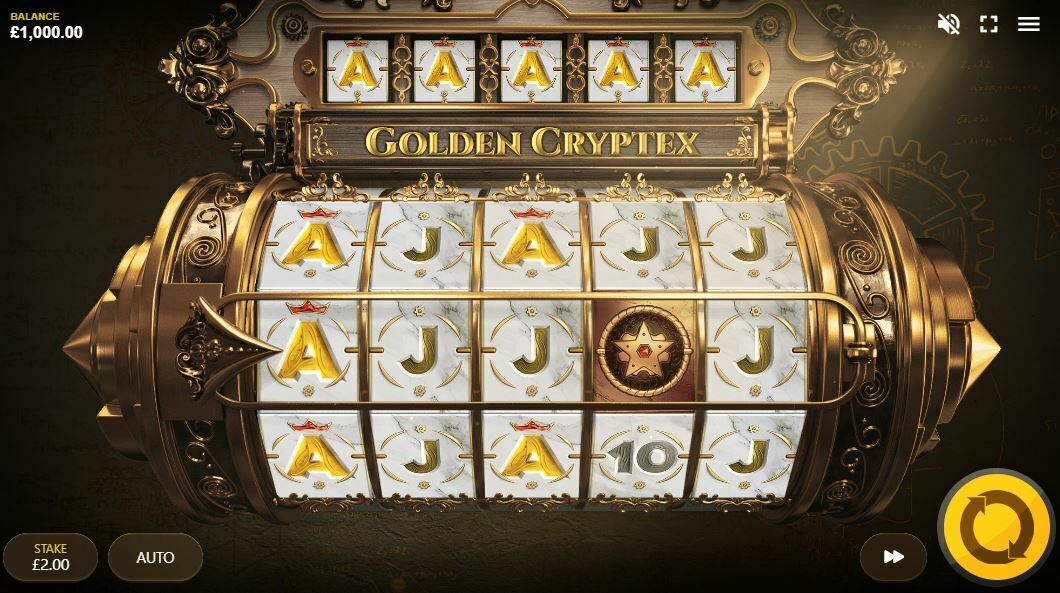 Golden Cryptex Bonuses
Several bonus features are included within Golden Cryptex, which are the things you should be hoping to unlock in your pursuit of big wins. The first is the code-cracking bonus feature, triggered when you land a combination of five or more matching symbols. When you trigger this, you will see five symbols lined above the reels, but you are looking to see five aces across the middle row, as this gives you the biggest payout and triggers the Golden Spins feature.
Players can also access a Second Chance feature that applies if you land three or four aces across the middle row, with these then remaining frozen in place while the other reels spin again. This will give you a second chance to trigger the bonus round or give you another respin instead.
A Free Spins feature is also included within Golden Cryptex, triggered when the Cryptex Code Ace is upgraded to the horseshoe symbol. This then immediately rewards you with ten free spins. Landing just one more symbol from the 'code' above each reel will give you the Cryptex Cash win. Players who can crack the code during the free spins feature will then see three extra free spins added to their total. If you upgrade to the highest value symbol, it will remain in place for the rest of the feature.
Summary
There are plenty of positives that come with Golden Cryptex, but the fact that several bonus features are included within the game can unlock some significant wins. The extra opportunities included within these bonus games can also see you have additional chances to win when you get the chance to do so. However, we found that the base game was sometimes a bit monotonous and the maximum win available to players was lower than what you could find in other slot games.

ccc