Published: February 16, 2021
Author: lena
Last Updated: August 1, 2022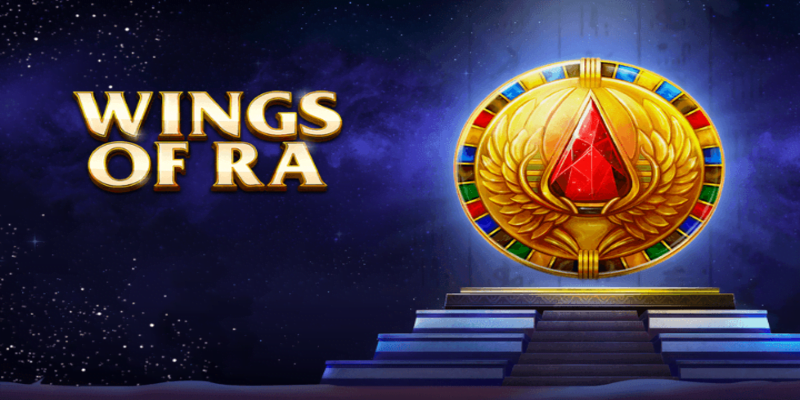 While you might already be tired of Egyptian-themed slots, let us tell you there is nothing old-fashioned about this game. Building on the classical and well-loved theme of ancient Egypt, where people lost their minds over the overwhelming riches pyramids kept hidden, this exciting slot is filled with unique features and massive cashout possibilities.
Everything is neatly packed into a robust visual design scheme that will have you spinning the night away. Please read about this slot in our extensive Wings of Ra review below.
About Wings of Ra
Ever thought about how glamorous the life of Pharaos was and would like to partake in the myth? Fly on the Wings of Ra with this classical style 5 Reel slot from already well-known slot machine games producer Red Tiger Gaming. Following an Egyptian-themed slot creed (revered by veteran players), this game can bring massive wins with its lovely Mystery Coins, which during the free spin, replace lower valued symbols and get wins of up to 3,000 times the stake. Now that sounds pretty good. Of course, like many other Egyptian-themed slots such as Mega Pyramid, Jewel Scarabs or Ancient Script, its symbols are the famous Eye of Ra, The Falcon God Horus, Nefertiti, and a Pharaoh symbol are the highest paying one of them all, bringing up to 30 times your stake in one bet. Everything falls in place, from graphics to sound effects, instantly aligning this game with the classics.
How to play Wings of Ra
After you've entered the realm of Ra by opening the game, it would help if you observed the denomination bar, which gives you the options of playing from a 20 pence bet, up to 20 pounds per bet, by simply pushing the – or + buttons, depending on what you want your gains to be. If you're in a hurry or would rather play more bets at lightning speed, you can activate de Fast Play button, which engages you in a Turbo playing mode, letting you learn more about the game, playing through features much faster and, of course giving you a chance at wins at a higher pace.
Of course, if you are on the go, travelling, flying or don't have access to a computer, you can always play Wings of Ra on your phone or tablet, be it operating an iOS system or an android one. It works wonderfully on your cell phone, so don't hesitate to try different platforms.
Interactive Features
This slot game may not benefit from a Jackpot, but that doesn't mean you can't earn tons of gains through its Mystery Coin symbol and the crazy Free Spin function. On top of that, this game has the outstanding characteristic of being a wins-play adjacent game, which means that you can land any three symbols on a paying line on the second, third and fourth reel, and still pick up a win on that spin. You can also cash in success if you land three symbols on the third, fourth, and fifth reels, thus bringing you closer to the Pharaoh's treasure!
The Free Spin Feature will be triggered once three or more Free Spin Symbols appear on your screen, anywhere on the reels, adding up to a maximum of 18 spins – when you get five lucky symbols. I love that this game is not one of those slots games that have to land those on a specific line. In your search for gold, you can encounter Mystery coins plenty of times, which flips to uncover a random symbol (all the mystery characters show the same feeling during a go) which leads to more combinations and hopefully big payouts.
Payline And Stakes
The regular pay symbols start from the lowest marks of 10, Jack, Queen, King and Ace, which can bring a potential gain of 12x, 14x, 16x, 18x or 20x for five symbol combinations lined on the reels. The higher-paying symbols include the Eye, Horus, Nefertiti, and Pharaoh, which bring a lot more generous multipliers such as 50x, 80x, 150x, and 300x in return for five of a kind. Also, in the magic of this royal, Egyptian-themed game lie the possibilities for players of hitting that crazy screen of pharaohs, gaining entrance to a 3000 x stake and offering the opportunity to make inroads leading to the temple of the king.
Wings of Ra Slot Game Software
The software was developed by Red Tiger Gaming studio, a well-established Eurasian company known for an abundance of unique titles, covering all sorts of fast-paced spins, bonuses, paylines and additional spins, an overwhelming array of game themes and of course, huge bonuses.
The software is up to the highest standards, optimised to perfection on all devices, be it desktops, laptops, or mobile devices. It has no hick-up whatsoever, no bugs, and no lagging. High-quality application software has always been the way of Red Tiger Studios. This fantastic provider offers brilliant slots including;
What is Wings of Ra's RTP?
The RTP – Return to player rate, which is the payout made (the likeliness for the slot to deliver a winning combination) over time by an online slot, is 95.69%, meaning that for every $100, the RTP pays out $95.69. This is commonly known as slot volatility. Now that sounds pretty cool, am I right?
Summary
So even though many rollers love to play flashy modern graphics games burdened with unique features and vivid details, this falls into the category of a library of titles that relish the simplicity of a classic theme slot, sometimes making the player ponder on the good old times.

ccc